Welcome to the official site for educational information and answers concerning the life and work of the designer Jens Risom.
In the late 1930s, Risom arrived in the United States, eager to expand his education in the field of modern furniture design. The 23-year-old Danish designer soon learned that there were few opportunities. At the same time a growing number of young American architects were looking for furniture that would fit into the new smaller open-plan homes being designed at that time.
For many of these architects, Risom would eventually provide the answer.
Even today, at age 90, Risom continues to design new pieces for local architects and modern homeowners near his home in New Canaan, Connecticut. A recent commission will end up in the Phillip Johnson home originally designed for the Boissonnas family in 1956 http://www.iit.edu/~kimbcla/BoissonnasHistory.htm
Instructions:
1. By clicking on the pictures, a larger picture or image will appear with further information. Eventually the site will contain a full archive of Jens Risom's designs.
2. Some pictures/images will be available for downloading as pdf files.
3. Links or a reference to the photographer and/or the source will be provided.
4. All material is presented for educational purposes in an attempt to provide factual information to visitors to the site, not for profit or re-distribution.
5. Questions may be sent to the site. The publishers will answer as many as possible; however, this site is not an appraisal/authentication service. Questions of that nature should be directed to the professionals who do this for a living.

Acknowledgements:
Contributors participating in this Web-based project include the designer Jens Risom, who maintains editorial and design control over all aspects of the site.

www.risom.org is being developed by Jespersen & Associates, LLC in Boston, MA
www.ja-online.com under the direction of Mark Jespersen, Senior Partner
Although primarily a pro-bono project at Jespersen & Associates, the agency wishes to thank the Risom family for opening the Risom archives and files while contributing financial and moral support during the development of this site.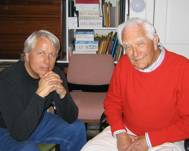 Mark Jespersen with Jens Risom, May 2004.

Many others who have graciously provided their time, knowledge and assistance on this project include:
Elizabeth Dockray www.artdejure.co who designed the user interface and navigational structure of the site.
Michelle Matz, Director of Project Management at Jespersen & Associates.
Elizabeth Sarkar, a partner at Jespersen & Associates.
Tanya Braganti www.tanyabraganti.co a New York City-based photographer who supplied images from the Ralph Pucci/Risom furniture launch www.ralphpucci.com
Diane Joyce Montenegro for additional background on Risom's early New York work as published in her thesis, Dan Cooper, American Designer.